India clinch World Cup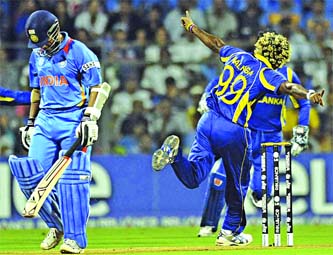 Heartbreak for India and jubilation for Sri Lanka as Lasith Malinga sees off Sachin Tendulkar during World Cup final between India and Sri Lanka in  Mumbai on Saturday.  Internet
Sports Reporter
India clinched the ICC Cricket World Cup title when they defeated Sri Lanka by six wickets in the final in Mumbai on Saturday.
Electing to bat first, Sri Lanka notched up 274 for the loss of six wickets in the allotted 50 overs.
In reply, India overhauled the winning target making 277 for the loss of four wickets when they had 10 balls to spare.
India had a disastrous start as the hosts lost their early two wickets for 31 runs.
After dismissal of Virender Sehwag (0) and Sachin Tendulkar (18), Gautam Gambhir and Virat Kohli put up together 83 runs in the third-wicket stand.
After removal of Kohli, Gambhir and Mahendra Singh Dhoni contributed together 109 runs in the fourth-wicket stand before Gambhir was cleanly bowled out by Tissara Perera when India's total was 223 for the loss of four wickets.
Gambhir was a victim of nervous nineties. He was deprived from a century for just three runs. He made 97 off 122 balls amid nine strokes beyond the fence.
Mahendra Singh Dhoni remained undefeated with 91 off 79 balls including eight fours and two sixes.
Lasith Malinga was the most successful bowler for Sri Lanka. He captured two wickets for 42 runs.
Earlier, Mahela Jayawardene unbeaten ton enabled Sri Lanka to post a fighting total.
Sri Lanka made a poor start as they lost their first wicket for 17 runs off 6.1 overs.
Then, Kumar Sangakkara and Tillakaratne Dilshan tried to resist India's controlled bowling attack adding together 43 runs in the second-wicket stand before Dilshan was cleanly bowled out by off-spinner Harbhajan Singh when the islanders' total was 60 for the loss of two wickets.
After departure of Dilshan, Mahela Jayawardene and Kumar Sangakkara built a notable partnership as they put on together 62 runs for the third wicket partnership before Sangakkara was caught behind by wicketkeeper Mahendra Singh Dhoni off Yuvraj Singh when Sri Lanka's total was 122 for the loss of three wickets.
Mahela Jayawardene remained unconquered with 103 off 88 balls. His 159-minute innings was laced with 13 shots across the ropes.
Kumar Sangakkara hit a captain's knock of 48 off 67 balls including five fours.
After departure of Sangakkara, Jayawardene and Thilan Samaraweera made another remarkable partnership. They added together 57 runs for the fourth wicket partnership.
Later, Jayawardene and Nuwan Kulasekera made another notable partnership adding together 66 runs for the sixth-wicket stand.
Dilshan, Kulasekera, Tissara Perera and Samaraweera added 33, 32, 22 (not out) and 21 runs respectively to the Sri Lanka total.
Yuvraj Singh and Zaheer Khan bagged a couple of wickets each instead of 49 and 60 runs respectively while Harbhajan Singh got one wicket conceding 50 runs.
[Read More]

—–
Source: The New Nation - Independent Daily